MAKING HIS LESSONS "POP" WITH A DOSE OF POP CULTURE
Blockbuster action movies aren't usually described as "thought provoking." But to Joe, people can always walk out of a theater with something to contemplate – even if they just watched giant robots battling for world supremacy.
"Even with big Hollywood films, there's something happening underneath," he says. "People assume we go to the movies to be passive onlookers, but films and books can start discussions – they can reflect what's happening in our society."
As an associate professor of English at Delta College, Joe often connects his lessons in literature, composition and other areas to the cinema and writing of today – even in genres such as horror or comedy. This gives his students a more personal and memorable connection to what they're learning.
"When I'm teaching, I reference stories that raise questions about the world in which students live, or about our history," he says. "It helps us see things through a different lens, rather than consuming things just for entertainment."
"I reference stories that raise questions about the world in which students live, or about our history. It helps us see things through a different lens, rather than consuming things just for entertainment."

Joe credits his freedom to get creative with his teaching to the environment at Delta College, where he and his colleagues are able to try new things and work with each other to improve their courses. He also values the way Delta's scheduling flexibility and smaller class sizes allow him to work one-on-one with students, giving them a more personalized education.
But even before he began teaching, Joe knew what was special about Delta, thanks to his personal experience with the school as a student.
"I dual-enrolled at Delta while I attended Arthur Hill High School in Saginaw," Joe says. "Even with all of my travel and experience attending universities in Virginia and New York, I still had this desire to come back to Delta College and teach. I wanted to 'close that circle,' to give back."
Now that he's returned to Delta, Joe is part of what he calls an "evolving school," where he leads standard classroom courses as well as online classes and study-abroad programs. He's also teaching a subject area he's passionate about, helping to instill a love of language in his students and an appreciation for literature and film – all of which he believes will help them in their careers and communities.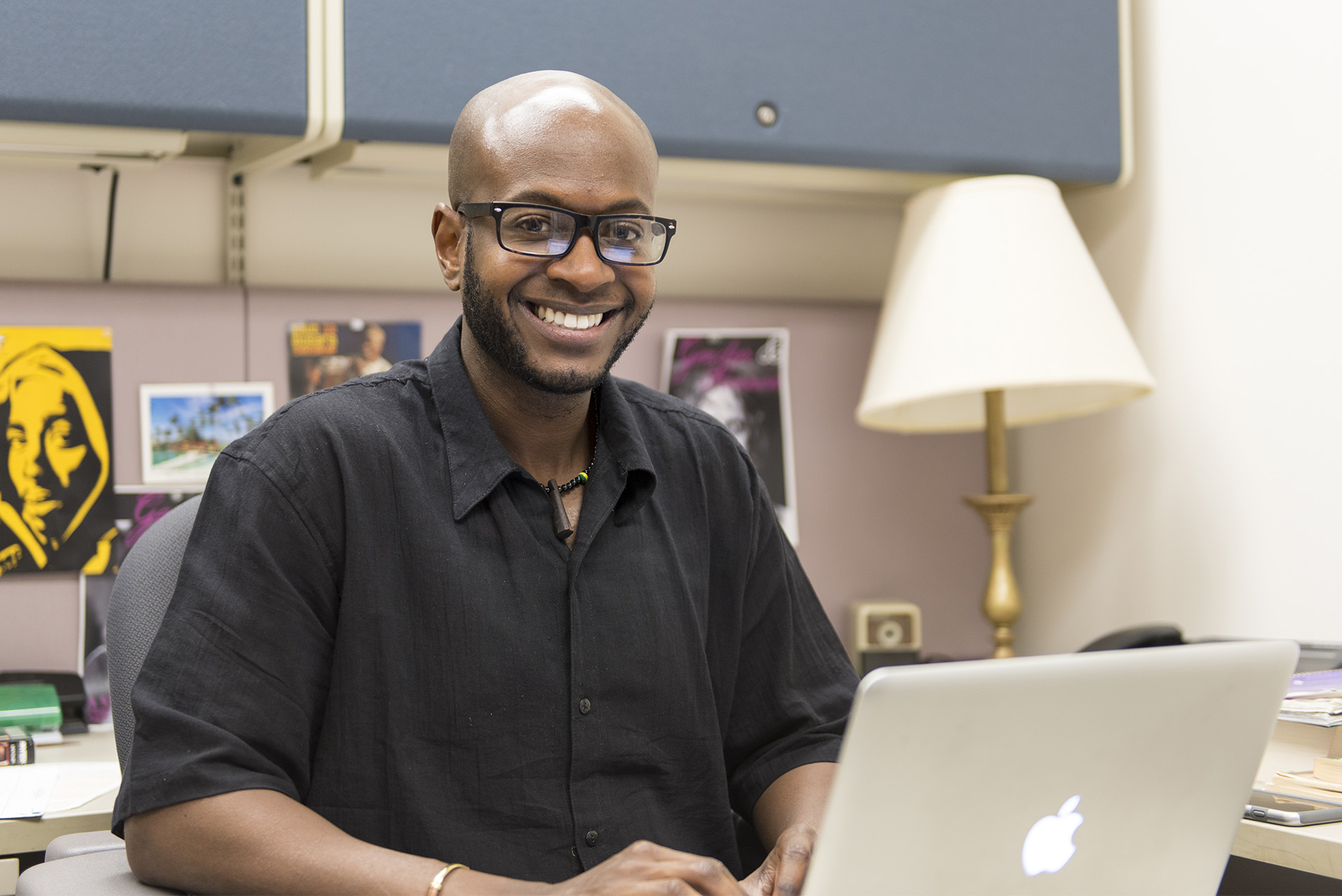 "Writing skills, and understanding the language associated with a profession, will help anyone in life," Joe says. "No matter how much technology changes the way we communicate, we're never going to get away from writing. You'll always need to write a résumé, for example."
Popular culture has given Joe a gateway to making important literary concepts more interesting to students. But his encyclopedic knowledge of movies and books has presented one problem: picking his favorites.
"Oh, man, that's a tough question," Joe laughs. "It depends on how obscure or mainstream I should get when I'm deciding!"
Meet more big thinkers
Carrie Burdzinski
Assistant Professor of Biology
Carrie does more than teach biology at Delta – she helps her students understand how they can use that knowledge outside the classroom to improve their health.
Brad DeRoche
Associate Professor of Music
An accomplished classical guitarist, Brad fosters a classroom environment where learning and developing as a musician also means growing as a person.
Joseph Hernandez
Assistant Professor of Mathematics
A Delta graduate, Joseph now helps the next generation of students learn and grow by teaching mathematics at his alma mater.
Joe Lewis
Associate Professor of English
Some might see a Hollywood film as mindless entertainment. Joe sees it as a reflection of society and a valuable teaching tool. It's part of what makes his lessons in English engaging and relevant.
Lisa O'Laughlin
Associate Professor of Office Administration & Technology
Passionate about teaching and technology, Lisa equips students with the knowledge to be skilled office administrators, while also offering support and a listening ear.
Linda Plackowski
Professor of Philosophy
Living ethically and with a purpose has been Linda's life "quest." As a philosophy professor at Delta, she helps students find similar meaning for themselves, while equipping them to think logically about everything from advertising to politics.
Wanda Zenzen
Associate Professor of Nursing &
Coordinator of Nursing Program
Wanda prepares her nursing students for the workforce by giving them the most up-to-date, hands-on training in a real-life laboratory setting prior to their clinical work.