Leaving a Lasting Impression on Dental Assisting Students
You may know the tooth fairy to be a stealthy operator, waiting until kids are asleep to leave money in place of lost teeth.
But thanks to Pam, the tooth fairy has become more of a public figure.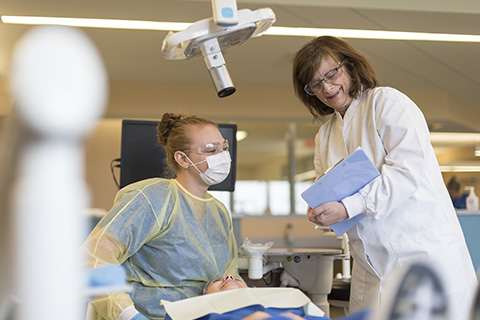 "I dress up like the tooth fairy and walk down the streets of Bay City during the St. Patrick's Day parade," Pam says. "You look out in the parking lot – my car reads 'Tooth Fairy.' It's just part of me."
Pam dresses as the tooth fairy to promote good oral hygiene. It's important to her, not only because she's the coordinator of Delta College's dental assisting program, but also because she was a product of dental neglect growing up.
And it's just one way she goes to great lengths to set a great example.
"I pride myself on being a good role model," Pam says. "Not just for my daughters. I think of my students as part of my family, because they're going to be joining my professional family soon."
Dental assistants help dentists in a range of procedures, while performing duties like radiographs (X-rays), fluoride treatments and teeth impressions. The role is different from a dental hygienist, who cleans your teeth.
Pam studied dental assisting at Delta College before, she says, renovations made it "one of the best facilities in the nation," with state-of-the-art technology. She's now been in the profession for 42 years – 35 of them teaching at Delta.
"Once you get dental assisting in your blood, you don't leave it," she says. "You meet so many great patients. And when they leave, we've gotten them out of discomfort and brought back their smiles and their confidence."
Feeling the rewards by building up her students
Building confidence for students and patients is one of the most rewarding parts of Pam's job. Some students enter her program later in life, without college experience, and need to start a career to support themselves.
"They sometimes come in without self-esteem," she says. "When they leave, they have confidence. Not just because they're going to be great dental assistants, but also because they believe in themselves."
Students who obtain a dental assisting certificate have plenty of opportunities. Dentists call Pam regularly in need of dental assistants – there are openings in the Great Lakes Bay Region and far beyond. Some students have gone on to become hygienists or dentists.
One thing is for certain: Wherever a student ends up, they will be proudly following Pam's example.
"I think of my students as part of my family, because they're going to be joining my professional family soon."
Pam Smith


Professor of

Dental Assisting

They might even don the tooth fairy garb.
"My children dress up as the tooth fairy … I've had students dress up as the tooth fairy," Pam says. "It becomes part of your life. That's what I hope for. I see students from 35 years ago who are in the profession and still love it."
Are you interested in pursuing a career in dental assisting? Delta College is the perfect place to start. Apply now.