Career Pathways
What career is perfect for me? That's a tough question for many teenagers.
---
That's why Delta College hosts a Career Pathways event every year to bring together high school students and career professionals for an opportunity to ask questions and get advice on their career decisions.
Career Pathways 2018 will be held on Friday, November 2, from 8am to noon. This event has about 2,000 students from area school districts interacting with approximately 200 career professionals. The professionals share information about the employment outlook and education, training or skills needed for success in their respective fields. They also share what they love about their jobs and what you might want to think about before choosing it.
This event is open to the community too. Want to learn more about what it's really like to do the job you're interested in? Come to this event and talk with local professionals.
For more information, email pathways@delta.edu or call 989-686-9072.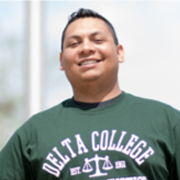 "It was really cool to be able to talk with professionals in the criminal justice field about their career. It helped me narrow down the career that I want to have."
RICHARD BARRON
UNITED STATES ARMY VETERAN
CRIMINAL JUSTICE STUDENT