35-year-old mom gets nursing degree, advances career
Jennifer Lemmer wears many hats. She's a wife, a mother to two young children, a friend, and most recently, a registered nurse.
The Saginaw resident was a licensed practical nurse (LPN) for 15 years before she made the decision to advance her career by going back to school to get a nursing degree. Two years ago, she discovered Delta's LPN to RN program through online research, and found that the four-semester program would perfectly fit her busy lifestyle.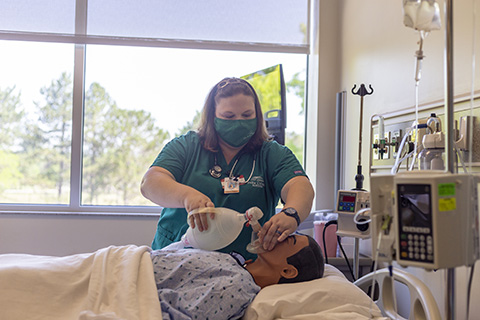 "I had been working in a medical setting for years, so I didn't want to start my schooling all over again," Jennifer said. "Delta is one of the only LPN-to-RN programs in the area and they really helped me with this career transition."
At Delta, Jennifer worked full time while staying on top her many other obligations. She joined the Delta College Student Nursing Association, Phi Theta Kappa and Alpha Delta Nu – a national honor society for associate-degree-seeking students in nursing.
Before graduating from Delta in spring 2021, Jennifer accepted a position as a registered nurse in the medical surgical ICU at Covenant Healthcare.
She said Delta has been a wonderful place to grow.
"There are so many people here who are kind and want to make sure you succeed. Your teachers are there for you, and really help you work through things even if you are older and haven't been to school in a while," she said.
Moving on to a master's degree
Jennifer's journey won't stop at being registered nurse. She has bigger plans.
While taking classes at Delta and working in groups with fellow classmates, Jennifer discovered a love for teaching. Her next step is attending Wesleyan University for a bachelor's and a master's degree in nursing education.
"If you're thinking about getting a degree later in life, you should just do it. Delta is very good at helping you figure out what works for your lifestyle. They will work with you, and they are amazing at it."
Jennifer Lemmer
Registered nurse for Covenant Healthcare
"I thought that I was just going to get my RN degree and go on with life, but Delta helped me imagine myself in a teaching role as well," she said. "I wish I knew how easy it would be to get everything going at Delta because I would have done it years ago."
Are you interested in starting a career in nursing? Learn more at delta.edu/programs.