An unexpected moment led to Sean's new beginning
One phone call disrupted everything for Sean Kohn, a Delta College electrician program student, yet set a new path in motion for him.
Before the COVID-19 pandemic shutdown, Kohn learned that he had lost his job and informed that his last day of work was the following day, leaving him with no preparation for what was next.
"So, I sat down, took a couple of months and just figured out what I want to do. What do I want to do for the rest of my life?" Kohn said. "I did a bunch of research and found the apprenticeship programs that I could apply for and this one just happened to pan out pretty much in my favor."
His new path would lead him to Delta.
"I think that instrumentation has probably been my favorite thing to learn. There are so many different instruments within the process system, and I'm just learning all about them, what they do and how they operate," Kohn said.
"You don't know until you start."
His journey with Delta initially began in 2004 on a different career path. With his recent return, he sees the opportunities of the "multiple fields" he can "branch off into" in the future. He praises Delta and its professors for giving him the tools to succeed in his field.
"I think that one of the biggest things here is a lot of my instructors have real-life experiences and what they're teaching you. They didn't go from their college degree to teaching. Many of them still work in their field and come here and teach us afterward. That's big to me," he said.
Kohn's greatest sense of pride is being an example for his children, adding, "The most rewarding thing to me is proving to my two sons that your age doesn't matter. You can always change your career path and move in a direction that excites you."
He encourages prospective students who are considering Delta to take a chance.
"They have everything you need here. Sign up for a class or two, get your feet wet and see where that leads you. Sometimes you don't know until you start."
Even though he was uncertain about which direction to go after losing his job, he sees the silver lining: it led him to a better one.
"Delta has changed my life considerably. From this program that I'm in now, it's going to benefit my family."
Are you interested in starting a career as an electrician? Learn more at delta.edu/programs.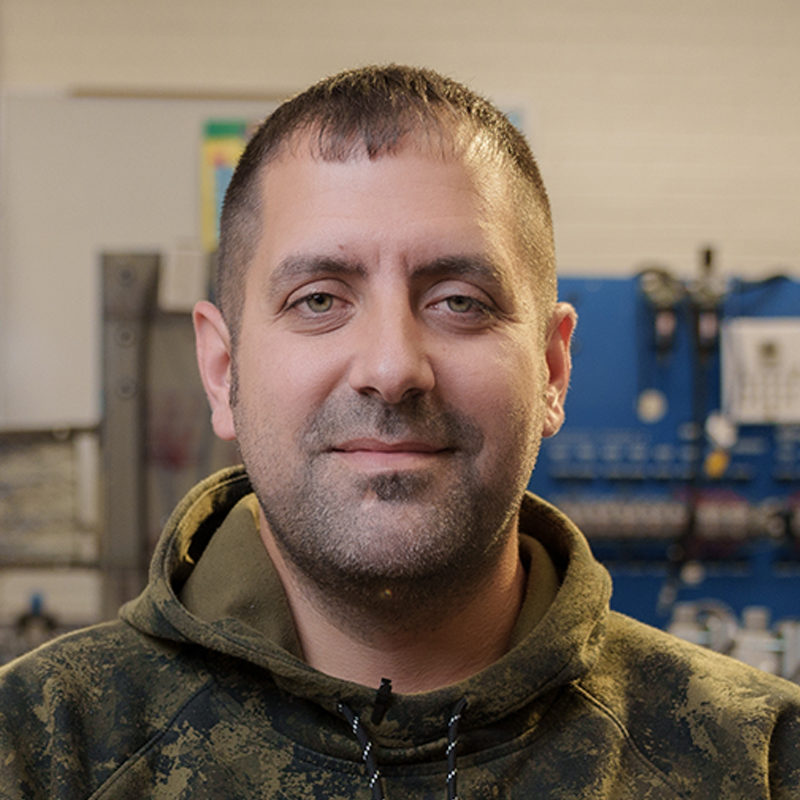 "Delta has changed my life considerably. From this program that I'm in now, it's going to benefit my family."
Sean Kohn
Electrician Program