Graduate Student Awards recognizes student achievement
April 27, 2022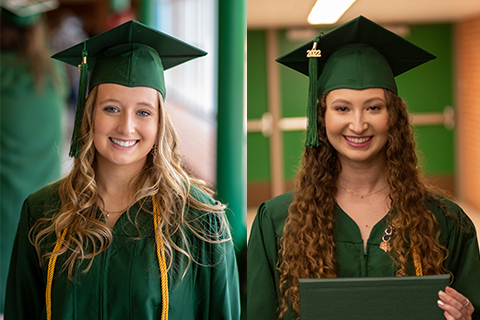 Delta College is celebrating some of its high-achieving students during its annual Graduate Student Awards.
In lieu of a ceremony this year, the award recipients will be recognized April 29 at Delta's commencement ceremonies. The awards recognize outstanding new graduates who represent the future of the Great Lakes Region and beyond. Awards are given to students for their academic achievement, hard work and persistence in a number of areas.
Thanks to the generosity of many businesses, organizations and individuals, recipients will receive lasting recognition on plagues displayed at the college and monetary gifts to assist with their future endeavors.
The William R. Collings Award of Excellence recipient will receive $1,250.
The Robert and Joyce Hetzler Family Award recipient will receive $1,000.
Graduate Student Award recipients will receive $750 each.
Board of Trustees recipients will receive $500 each.
Highest Recognition Awards
Academic Achievement & Superior Citizenship
William R. Collings Award of Excellence
Madeleine Loshaw
As a student in the Great Lakes Bay Early College Program, Loshaw, from Saginaw, will receive her high school diploma and associate degree within a few weeks of each other. She completed 75 credits at Delta and will go on to Ferris State University for a bachelor's degree in criminal justice. She aspires to have a career in federal law enforcement. She thanks Delta's faculty for their support, especially Joshua George, assistant professor of criminal justice, for introducing her to digital forensics.
Service & Leadership
Robert and Joyce Hetzler Award
Jocelynn M. Wyzkiewicz

Wyzkiewicz, from Bay City, chose to pursue a nursing career because she enjoys learning and helping people. She is currently working as a graduate nurse in a labor and delivery unit for a local hospital and will attend Oakland University this fall to complete a bachelor's degree. She plans to go on for a doctorate in nursing with a focus on midwifery and pediatric nursing. She said, "I don't want to just help people, I want them to feel cared for and listened to."
Board of Trustees Award Recipients
Graduates with a 4.0 GPA
Jessica F. Berlin
Ashley L. Chase
Cheyenne K. Griffin
Megan C. Hoesman
Olivia A. Kaminski
Jane K. Lewis
Madeleine Loshaw
Lindsey C. Miller
Emilie L. Peitsch
Rodney M. Spindler
Kasey L. Thompson
Darius W. Aimesbury-White
Bailey S. Wilson
Alaina G. Yuker
Graduate Student Award Recipients
Applied Industrial/Technical
Gougeon Employees Foundation Award
Kyle L. Keilitz
Art
Peter B. and Suzanne Frantz Award
Jessica F. Berlin
Business/Information Technology
Delta College Foundation Award
Seth Wegener
Business Management
Morley Family Foundation Award
Samantha J. Pope
Education
Edward and Kathryn (Dunn) Langenburg Award
Olivia A. Kaminski
Engineering & Technology
Fred E. Dulmage Memorial Award
Abbey L. Sequin
English
Margaret T. Timm Award
Destiny A. Williams
Foreign Language
Lola Bishop Whitney Award
Cheyenne K. Griffin
Health Sciences
James R. McIntyre Award
Chloe E. Owensby
Law Enforcement
Fraternal Order of Police, Bay City Lodge 103 Award
Madeleine Loshaw
Life Sciences
Julius and Irene Sutto Award
Erika N. Rosebrock
Mathematics
Jim & Janis Van Tiflin Award
Denarion M. Benjamin
Nursing
Frances Goll Mills Award
Tania J. Ransom
Office or Administrative Technology
Delta College Foundation Award
Carly S. Barber
Physical Science
Dow Michigan Operations Award
Mitchell N. Chapman
Social Science
Wesley C. Timm Award
Megan C. Hoesman


Written by Leah Twilley, Communications Specialist.